Welcome to another update in the YouTube Monetization series. In this series I keep you informed on my progress to become a monetized youtuber. If I come across tips and tricks I will share them here. This is the fourth month since I started uploading videos to YouTube and I still have a lot to learn. This month (April) I uploaded four new videos:
YouTube monetization getting started
How to get more YouTube views with Pinterest
12 quotes that will make you rethink everything
I still don't have a steady upload schedule which according to many tips and tricks websites is very important. As you can see in the numbers below the progress is there but it is very slow. So for the upcoming month I need to think of better ways to get viewers engaged. Another problem I'm having is sound. I need to practice my voice in the videos and maybe use a sound improvement program (like Audacity) to make a better voice. But thats for May.
APRIL
So lets look at some numbers. Below is a screenshot of my channels statistics for the month April.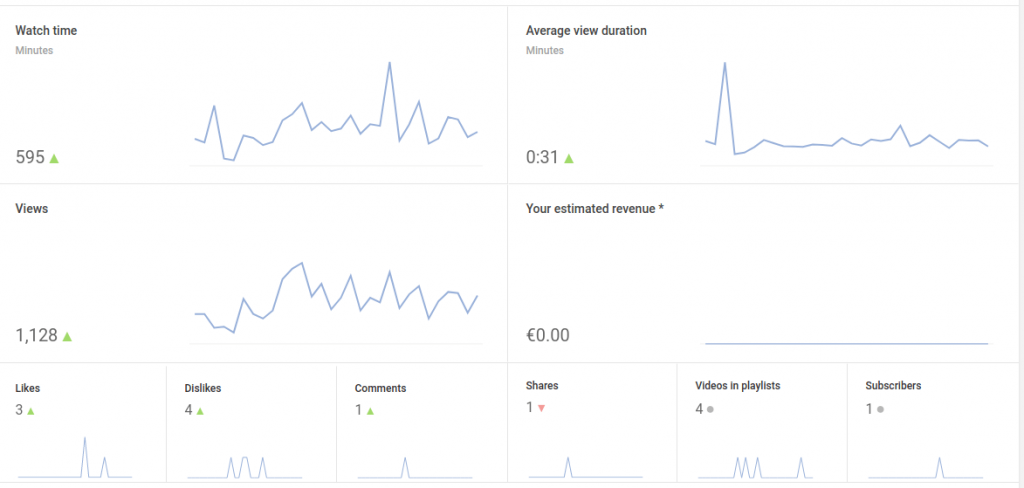 As you can see the number of views is a little less then in March. This is because March has 31 days and April only has 30. When you calculate the average views per day it was 37 in March and 38 in April. So a tiny bit of improvement.

The key statistics
Views 1128
Watch time 595
Subscribers 3 (the statistics image gives the in- / decrease)
SUMMARY
| | January | February | March | April |
| --- | --- | --- | --- | --- |
| Views | 417 | 941 | 1142 | 1128 |
| Watch time | 203 | 464 | 586 | 595 |
| Subscribers | 0 | 0 | 2 | 3 |
The statistics have improved in April but still a long way to go for monetization. One of the main issues is the length of videos. The video I made about Drupal 8 installation doubled in views (see video here) and that was a 12 minute video. I uploaded short videos in April so I need to make videos on longer subjects. Try that again in May.
If you want to keep informed follow me on Twitter @DebomaDevStudio or subscribe to my YouTube channel here.